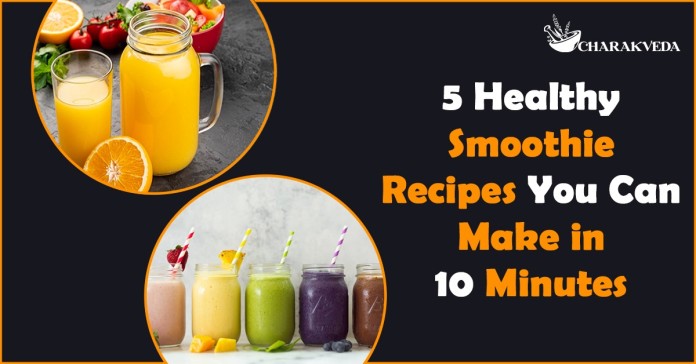 Drinking smoothies have always been my favorite thing to do. And since I have started eating mindfully, healthy smoothie recipes have become my go-to option for a quick snack or even as a meal replacement option, yes, you can do that with smoothies!
While I am on and off into smoothies, summers and monsoons are a perfect time to give them a try. In this article, I am going to share five of my favourite smoothie recipes, and also answer some of the most asked queries and a list of supplements that you might add to make them even healthier! So, here we go.
How to Make A Healthy Smoothie?
Basically, a smoothie is all about adding all the ingredients together and blending them into a thick-smooth (drinkable) beverage. I am sure you all must have been drinking all of these smoothies since you were kids, but how about adding flavour and health to your favorite beverage? Here are a few tips to ensure that you do not mess with this simple beverage recipe.
Use a high-quality blender. Many times, when you try to blend frozen fruits or veggies, the blender might give up and not provide you with a silky texture to your smoothie. It might even contain chunks which is not an ideal situation for following a simple smoothie recipe. So, invest in a quality blender and you would be set to create tasty smoothie recipes!
Smoothies are not just about adding fruits to the recipe. If you want a healthier option, adding vegetables to the smoothies could be a good option. I, personally, don't like adding cauliflowers or cabbages. But other leafy vegetables like spinach and kale are always welcome. Zucchini is another popular vegetable that has made its way into the millennial culture. It is tasteless and adds tons of nutrition to your smoothie recipes. You can pick and choose the vegetables you like and just add them to the blender.
When it comes to fruits, using frozen fruits is the way to a great smoothie recipe. I start with a banana as it thickens the smoothies and adds natural sweetness to it and from there I pretty much go ahead with what I am in the mood for. Strawberries, blueberries, oranges, pineapple etc. make for some of the amazing counterparts to go with a banana. You can easily buy diced up frozen fruit bags from your nearest grocery store or the simplest way to go is dicing them and storing them in the freezer in a zip-lock pack. These frozen fruits make the smoothie prep so much easier. You can also add crushed ice to the blender while using fresh fruit and you will get an amazing taste. If you don't like bananas, you can simply add yoghurt to the blender to thicken it up.
I generally try to include only natural sugar in my routine but if you would like to add some more sweetness, feel free to add some honey, maple syrup, dates or peanut butter. These are some of the healthiest options for adding sugar to your healthy smoothie recipes.
Another common question that people ask about creating smoothies is which liquid should I use as the base? So, I prefer water to make my smoothies. But sometimes, just to spruce it up, I add almond or coconut milk. You can also add some juice to it but I don't generally recommend doing that as it contains tons of sugar and other preservatives.
Now, since I have given you a base as to how I prepare my healthy smoothie recipes, here are my favorite ones along with the calories. Please note that the calories mentioned here are in reference to using just these ingredients and water to prepare them. As mentioned above, if you would add other sugar sources or liquid bases to your smoothie, the calories will increase respectively.
5 Healthy Smoothie Recipes
1. Banana-Strawberry Smoothie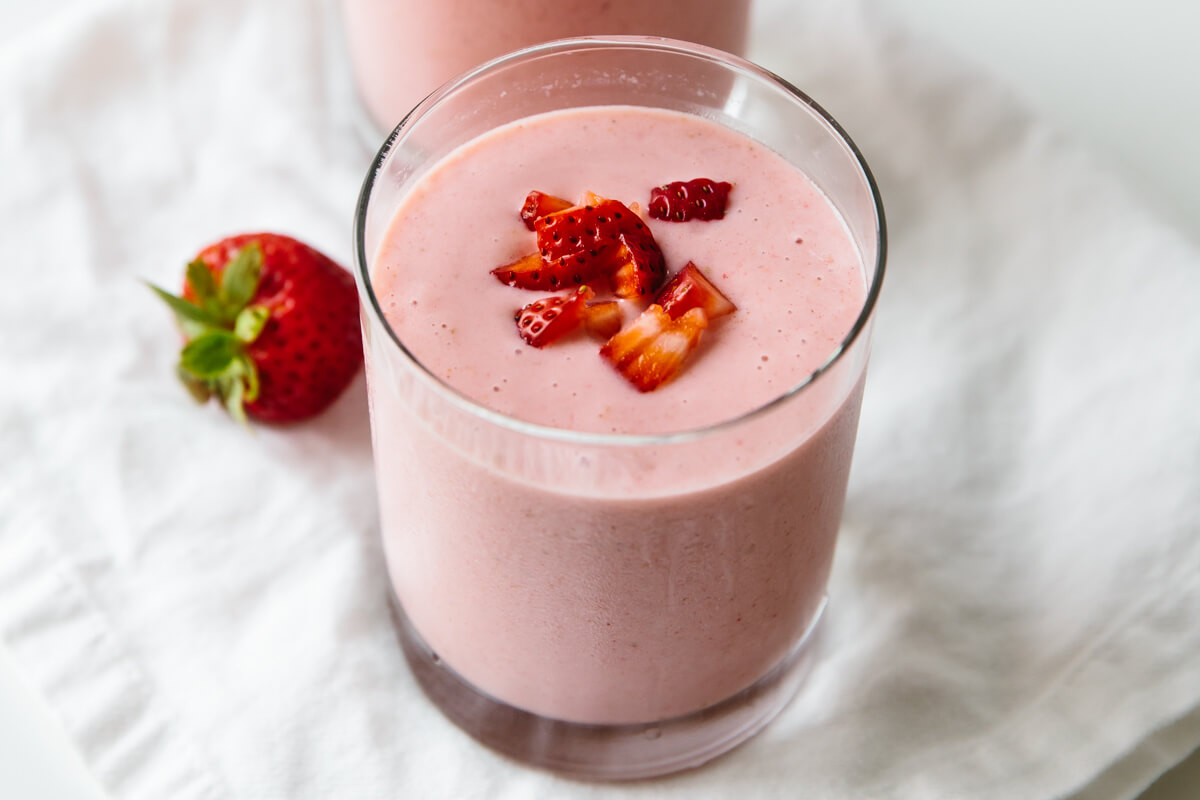 Ingredients: ½ frozen banana, 3-5 strawberries and one tablespoon chia seeds
Calories: 241
Banana is one of my go-to ingredients whenever I am preparing a smoothie. Apart from that, strawberries are the natural antioxidants that I love adding to my daily routine.
2. Orange & Carrot Smoothie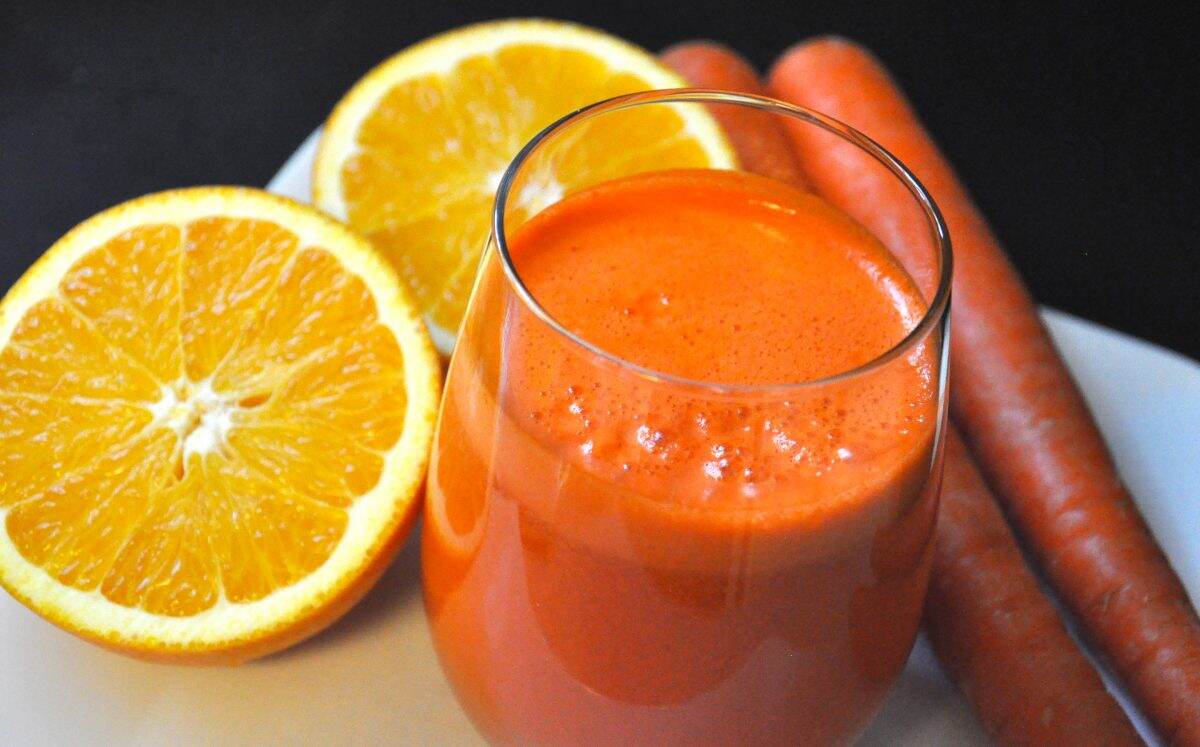 Ingredients: ½ – 1 peeled orange, ½ frozen banana, one small peeled and grated carrot,1/4th inch ginger
Calories: 200
This is such a refreshing smoothie and I love making it up whenever I want a little break from all the sweetness of other smoothie recipes. The banana thickens it right up. Carrot and orange fulfil your daily requirement of Vitamin A & C. Did you know that Vitamin A is really good to improve your eyesight and Vitamin C gives you loads of antioxidants?
3. Pineapple and Mango Smoothie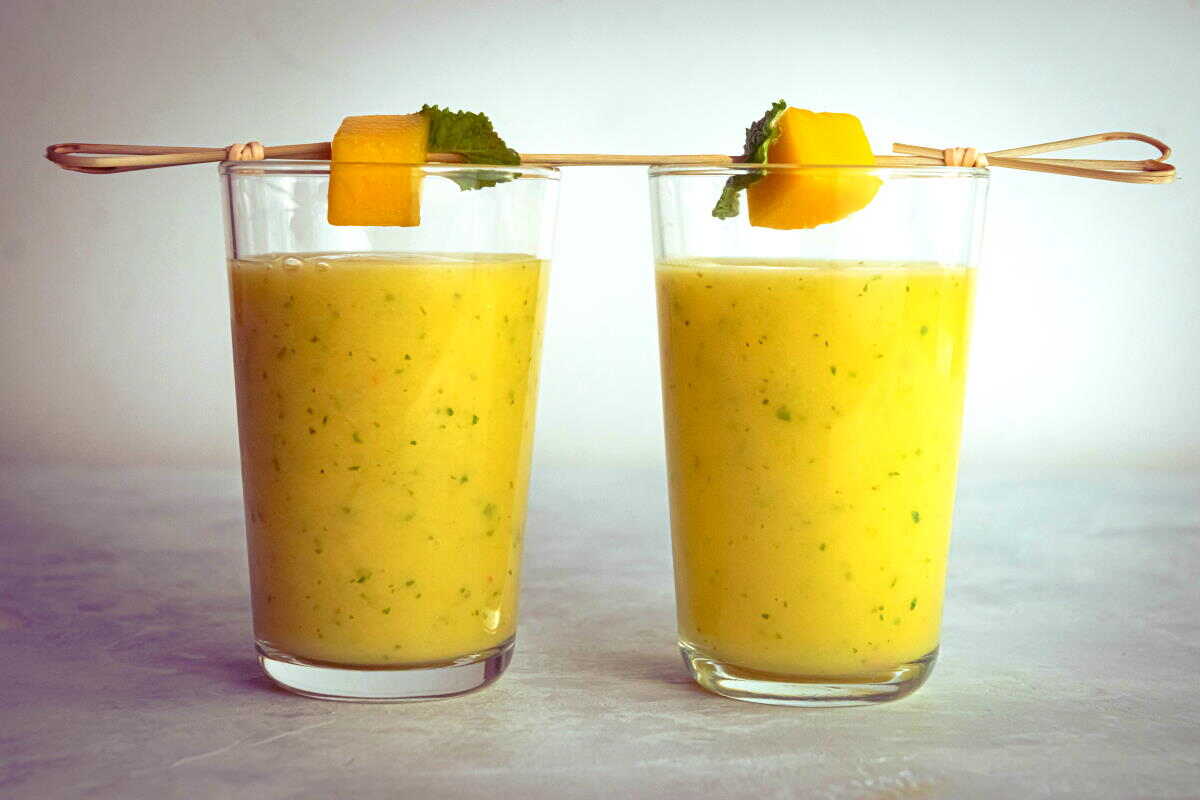 Ingredients: 100gms diced pineapple chunks and ½ peeled and cut mango
Calories: 350
So, this one is my favourite healthy smoothie recipes but the calorie content is a bit higher as both pineapple and mango are high in sugar content. Also, you won't have to add bananas to this smoothie. Just put the diced pineapple and mango in the blender along with some water, and it is good to go. If you want to thicken it up like a milkshake and cut that sweetness, go ahead and add some yoghurt or some almond milk.
4. Kale and Avocado Smoothie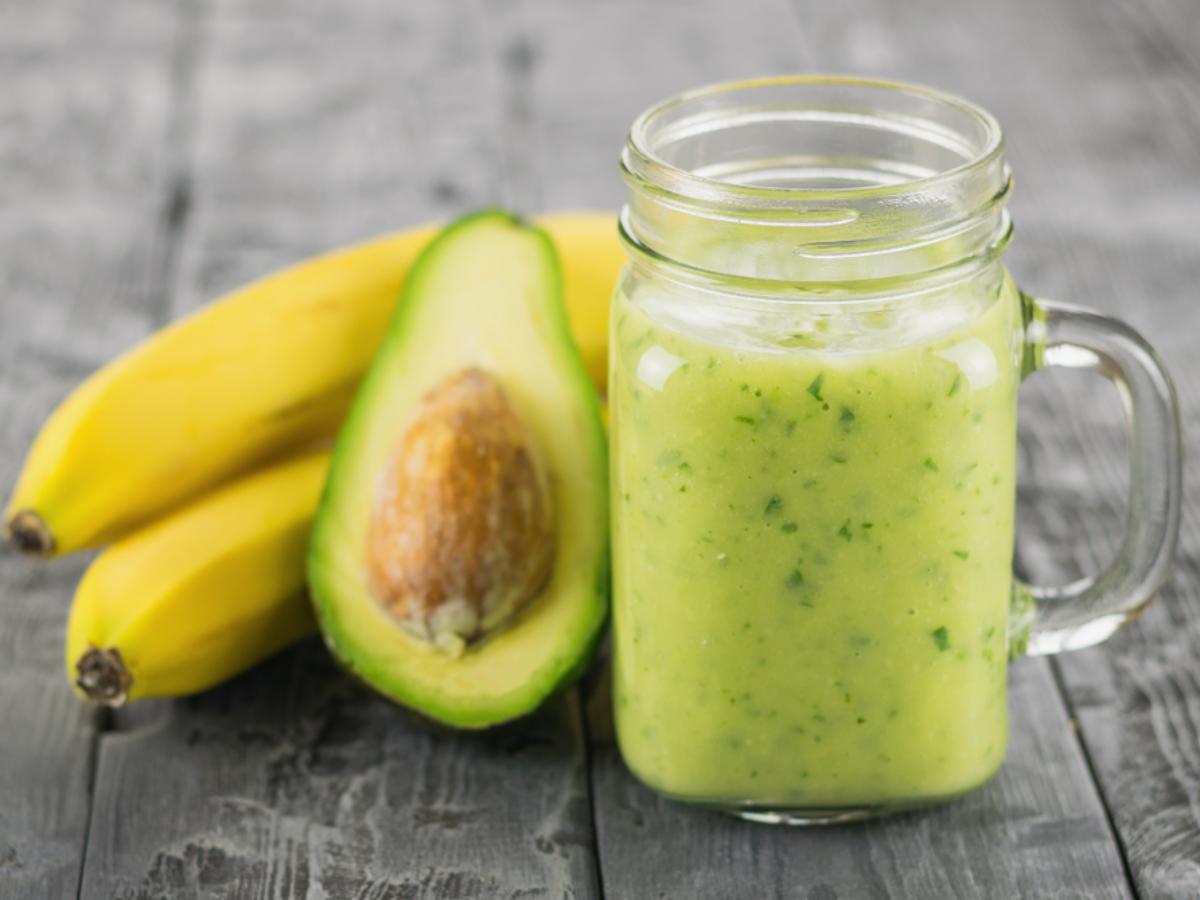 Ingredients: ½ avocado (small), ½ cucumber and about 100-200 gms of kale
Calories: 117
So, green smoothie recipes are popular these days. They are healthy and provide you with a ton of nutritious value in just one serve. My green smoothie recipes consist of kale, avocado and cucumber. All these ingredients are not only low in calories, but they are also high in nutrients like Vitamin A & C. I like adding some pink Himalayan salt to give it the right punch of flavour. You can add or skip that as per your preference.
5. Lemon & Blueberry Smoothie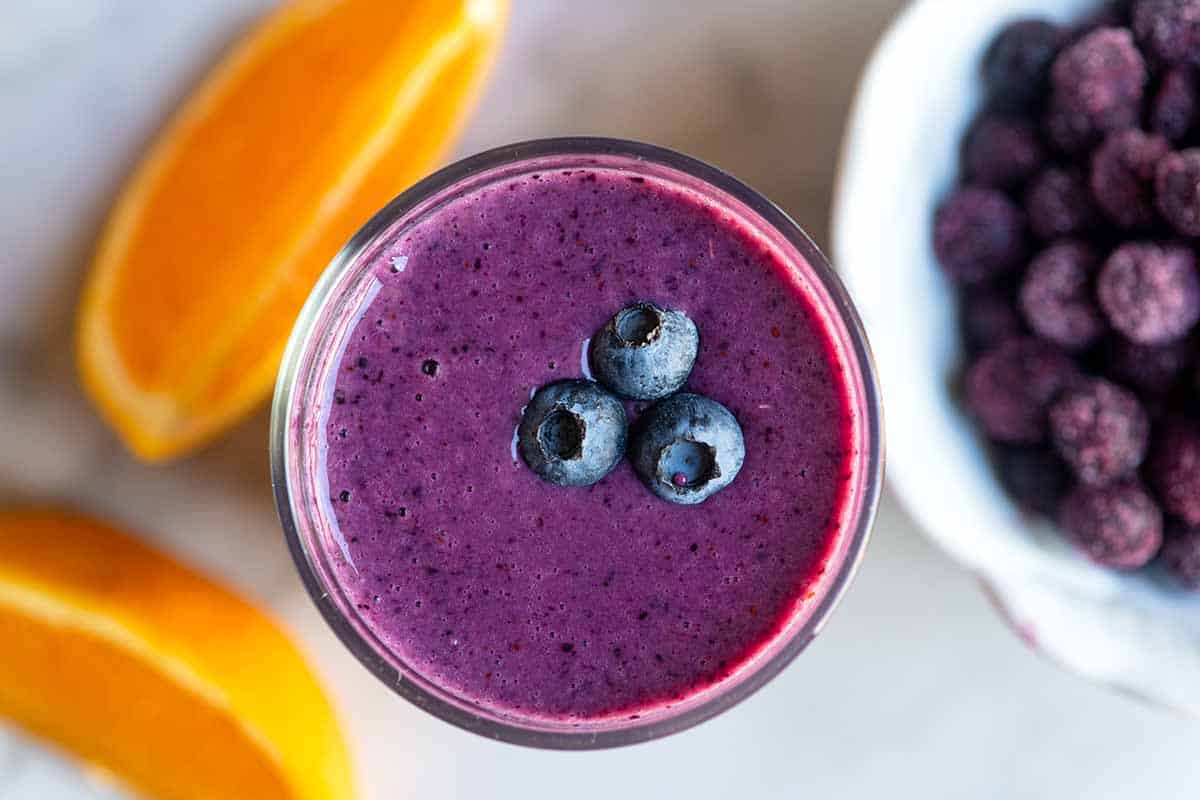 Ingredients: 5-8 blueberries, 2-3 tablespoons of lemon juice, 01 tablespoon rolled oats, 1-2 sliced almonds
Calories: 325
Another smoothie that has got that extra zing is this one. It has the sweetness from the blueberries and that sour taste from the lemon that cuts the sweetness. This smoothie is full of antioxidants, Vitamin A and C. Along with these ingredients, I love adding some rolled oats to it to thicken it up and some sliced up almonds to garnish it on the top.
Wrapping Up
So these are some of my favourite healthy smoothie recipes. I hope these would make it easier for you to choose a healthier lifestyle. To create healthier recipes, you can add some of these ingredients:
Chia, Basil or Flax Seeds
Sunflower and Pumpkin Seeds
Ginger
Matcha
Almonds
Rolled Oats
Try these smoothie recipes and share your experiences with us in the comment box below. If you have recipes you would like to share, don't forget to share with us.